Christian Science Committee on Publication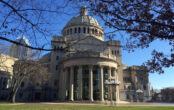 Additional Resources About Christian Science
Other sources of accurate information about Christian Science
The website christianscience.com has many resources providing accurate information about Christian Science. To learn more see:
The Mary Baker Eddy Library provides resources for researchers and others seeking accurate information about Mary Baker Eddy and the Christian Science movement. Including:
Biographies of Mary Baker Eddy published by the Christian Science Publishing Society and by independent scholars.